The disappearance of tigers of Rajastan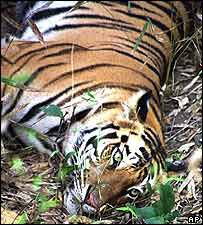 Tigers of Rajasthan 'disappear'
A massive search for tigers in a wildlife reserve in India's western state of Rajasthan has failed to find firm evidence any of them are alive. Three hundred forestry workers spent two weeks looking for tiger paw prints in the Sariska reserve, set up in 1979 as part of a tiger conservation scheme. Environmentalists say 15 tigers counted there last May have disappeared.
India is estimated to have more than 3,000 tigers, accounting for about half the world's tiger population. Trapping Forestry officials told the BBC they were hopeful they might still find tigers during a census planned for May. Since last May's count, traps have been found in the forest.
The environmentalists say mining in the area is also destroying the tigers' habitat.
Prominent social worker Rajendar Singh said conservation measures had increased tiger numbers to 20 by 2001 but said officials had failed to react to the danger of trapping.